DennyP Travel
tm

LLC - Cruise the U.S. & British Virgin Islands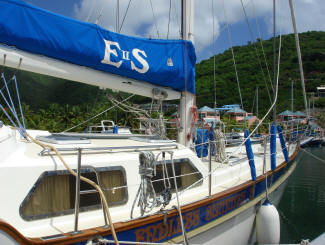 Imagine sailing on the beautiful blue Caribbean along with several of your friends on a luxurious yacht; the Endless Summer II. You and up to 7 of your companions will be aboard this 72' yacht along with an experienced captain for 7 nights of sailing, swimming, exploring, relaxing, eating and drinking - and carousing if you like. It's your floating home for the week. Visit all the islands or find a quiet cove to simply relax, swim and sunbathe. The choice is yours!
It really is like renting a private villa – that moves as often as the mood takes…. It is self catering and admittedly there are daily chores to share. The galley is exceedingly well equipped, just like your kitchen at home. And of course there is a gas BBQ on deck for the guys to show their grilling prowess. Whether you eat out at shore side restaurants, cook gourmet in the galley or just throw something on the grill, the choice is simply yours….
Your trip leaves from Nanny Cay marina in Tortola, British Virgin Islands around noon on your day of departure. If you want to arrive a day early to sightsee Tortola or provision the yacht to best suit your preferences and budget, then take advantage of ESII's complimentary night before "sleep aboard" offer.
Your captain is Barry and he and his wife Rosalind have owned the yacht for many years. Barry will spend the week with you. He will dock and maneuver the yacht and generally assume responsibility for on all things technical and nautical. He's an avid nudist, an easy going congenial host and totally comfortable with lifestyle groups. Take advantage of his amazing local knowledge along with numerous stories stemming from 3 decades of being a charter yacht captain. There is no set itinerary but Barry will offer suggestions as you plan the days ahead. He'll want you to have the best vacation ever but since he is responsible for the safety of you and the ship he may on occasion exercise his maritime right as Captain to have the last word….
The ES II caters to all types of groups: nudists, clothing optional enthusiasts, lifestylers, and even the textile crowd will be welcome and be able to enjoy themselves. Barry has experience will all types of groups. You may want to consider a company outing for you and some of your valued employees.
The cost is only $10,000 for up to 8 people or $1250 per person. Added to this will be the cost of stocking the yacht with your food and beverages plus meals when you elect to eat ashore. Rosalind will provide lots of advice and assistance prior to your arrival about stocking the yacht. Options range from doing it yourself to having your custom order delivered right to the yacht. There are 4 guests cabins aboard, each with their own lavatory and shower area. Bedding and towels will be provided.
There is more information found at the links to the right regarding the ship and other frequently asked questions.
Are you ready to start planning your trip? Here's what you need to do.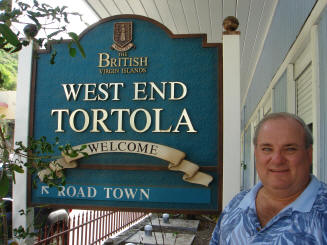 Contact your friends. Up to 8 people can be on your customized 7

night cruise in the beautiful British Virgin Islands.
If you need people to fill your cruise you can use the ES II forum on the DennyP Travel message board to post your invites. If you are not already a registered message board participant you will need to click on the register link and register prior to posting. There is a link at the right to the message board. The ES II forum can be found in the Travel Information section of the message board.
Check the availability calendar (link at the right on this page) for some possible dates.
Contact DennyP Travel (link at the right) to request a confirmation. He will need anyone providing the funds for the deposit to contact him with their credit card and other information. Make your own air reservations.
Prior to the 60 day mark before departure, anyone providing the final payment will again need to contact DennyP Travel with payment information.
One person needs to be identified as the main contact person for the group. That person's contact information will be forwarded to Roz & Barry who will work with them prior to departure to arrange the itinerary and suggest food and beverage purchases which can be done locally upon arrival to Tortola. They will organize local transportation information for your arrivals. The main contact person will have the responsibility to pass along all information to other group members.
A 50% deposit ($5000) is required at the time of booking. The balance is due 60 days before departure. If you are booking your trip closer than 60 days before departure, the total amount ($10000) must be paid at the time of confirmation. In the case of cancellation all payments are refundable (less, any agency fees) provided the yacht is fully booked for the same period. Rescheduling is at the option of the owners and based on availability. Rescheduling charges may apply. You may substitute or add group members if needed, up to a total of 8 people. If you have a group of 10, please call and we will explain how that could possibly to accommodated.
The cruise starts in Tortola BVI so passports are required of all passengers. No credits given for unused food or beverages.