Trip Report – FantaSea Fest Cruise – Carnival Miracle 10/27 – 11/4/2009
Clothing Optional Cruise - By Diane and Sabrina
This year, a group of us from the sub group Friends in Low Places (FILP) who met primarily through WinterWWW decided to try something a bit different – a nude cruise.
This was a charter cruise that left from Ft. Lauderdale.  Before the cruise, several of us (both people going on the cruise and those wanting a weekend get-away) stayed at the Seagate Resort.  The Seagate is old but nice - it is very clean and quiet and it looks like it has the potential to be a wonderful place in Florida for those that like to be nude.  Jana (who used to manage the Rooftop) is the manager.  The downside to the Seagate is that while it's only a block from the beach, there really are no restaurants, stores, etc., within walking distance like there was at the Rooftop.
The Seagate Pool area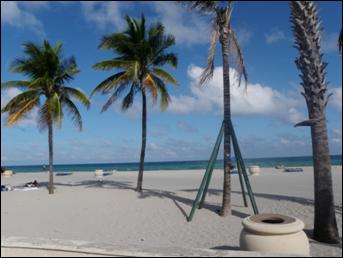 Beach in Ft. Lauderdale – too perfect!
Sail Away Day Ft. Lauderdale – Tuesday
Sail away was Tuesday October 27th and started with a meet and greet in Diane and John's stateroom.  Our group ended up being 17 couples/rooms.  It was good to meet everyone that was traveling with our group.  Think there were about 22 people in that tiny room!
As for cruise booze being expensive?  There was absolutely NO problem bringing it on yourself. Carnival allows one bottle of wine per person, but we didn't hear of even one person who had their luggage
gone thru and whoever had booze packed in the luggage got it all on. I don't think you could have carried it in your carry on, although they really didn't even check that either...but whatever was packed was left untouched. The cost for booze on the ship was probably a little more than we are use to paying (the gratuity bumps it up), but if you buy one or two occasionally, you can just go back to your room and fill a mug with whatever you want as far as I saw. I doubt we could do what we do on FILP trips and have 30 different bottles of booze in a room, blenders, ice chests, etc., but one or two bottles....no problem, mon.  Also, try http://www.rumrunnerflasks.com/ - nice, compact way to transport liquor.
Nassau, Bahamas – Wednesday

Nassau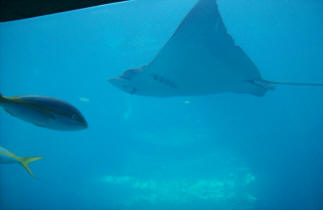 We enjoyed Nassau, and went over to Atlantis and hung out there most of the day. I'd probably not go back (to Atlantis...expensive!!), but it was a nice day and we saw a lot with the aquariums and all.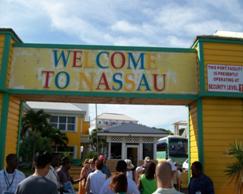 Atlantis in Nassau
Sabrina – We stayed on the ship for most of the day and enjoyed lounging about and sleeping late (when I finally got to sleep).  All I can say is bring your alarm clock just to know the time.  I went to bed, got up and was sitting upstairs very refreshed drinking a cup of coffee thinking it was about 5 am.  Well I asked someone and it was 2:15 am.  Oops.  Time to go back to bed! 
Diane and Sabrina - There was a group that had been communicating on a message board who all met at Senor Frogs that afternoon and that was really fun. Seems as though not as many communicated in advance as what normally does for a Hedo trip, but those that did, were a hoot and we had a really good time. It was really fun meeting new fun and crazy folks. John had everyone in an uproar with his dancing antics....you know how he can be!!
John at Carlos and Charlie's
And how much fun is it to drink a drink as big as you are??

Sabrina at Carlos and Charlie's
Half Moon Cay, Bahamas – Private Beach Day - Thursday
<![if !supportLineBreakNewLine]>
<![endif]>
Diane - Half Moon Cay was absolutely awesome and I wish we'd had more time there. It's a private island
that is owned by Carnival and they have its exclusive use. There was no charge and they had tender boats running back and forth all day. They served lunch (same food as the ship had...burgers, dogs, chicken, fries, salad, cookies, pastries, etc.) and you bought your own booze, same as on the ship
(using sail and sign card). The sand was white, sugar fine, and the water was beautiful. You could be up to your neck and see your feet clearly. They provided plenty of lounge chairs, but we hung in the water most all day. Our boat had the entire island, so everyone was nude (or could be if they wanted). This place was amazing, and would have been worth paying for....but again, no charge. I could have stayed there two or three days for sure. We did have to leave by around 2:30pm...probably another ship was coming in, and they needed the nudies off the beach.  This is the tender boat returning to the island, after everyone was off the island.  Check out the color of the water:

Here is a picture of John, he looks as big as the ship, I didn't think he really ate that much:
Sabrina - Half Moon Cay – Unbelievable.I could have stayed here for two days.Ditto to everything Di said. We did not do any excursions here as it is a Carnival Island with Carnival excursion prices.  But I do wish we would have brought a snorkel from home (which we will do next cruise).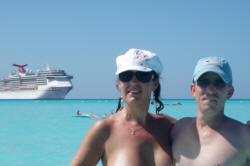 Steve and Sabrina Half Moon Key
Side note:  The sign and sail card Di talked about above – no cash used on ship as this card is how you pay for everything extra.  Scary little card but only went over by about $230.00 more than planned by end of cruise!  Just monitor that scary little card carefully so you are not surprised at the end of your cruise!!
Di's addition:  You can monitor your sail and sign card on the TV if you think about it.  You just have to put in the "folio number" which was printed on the card.  It keeps a separate total for each person in the room, if that matters.  You have to put both numbers in to get the grand total. 
Key West – Fantasy Fest!!  Friday and Saturday

Pulling into Key West
Diane – Key West and Fantasy Fest!!!!! Best part of that, was the party over at Hank and Debby's home. A parade on Friday night went RIGHT in front of their home. Everyone hung out on the second floor deck
and watched the crazies go by. Followed by laughs and fun....a good time was had by all. Saturday, John and Dawn invited us and a few others over for a wonderful BBQ at their rented place, which was right around the corner from Hank and Debby's. They had a pool, good drinks, and most important wonderful friendships were enhanced!!! thanks so much to those from Key West who really added to the trip!!!!! Can't wait to do it all again!!!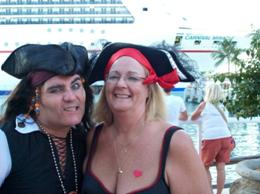 John and Diane on Friday night:
Sabrina – Fun, Fun and More Fun!!  I loved this port so much, we are going again next year and staying with Hank and Deb during Fantasy Fest!!  Great place to watch Friday Parade from Hank and Deb's balcony.  I was painted on the ship and felt like I was a movie star with how many times I was photographed!  We ate lunch on Saturday at a great place in Keys called La Te Da - not to be missed!  Saturday night we ate at Red Fish, Blue Fish and watched parade not far from there.  Ship set sail at midnight…See ya crazy people next October in Key West!!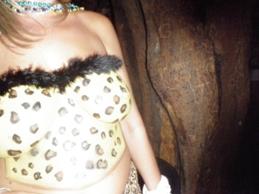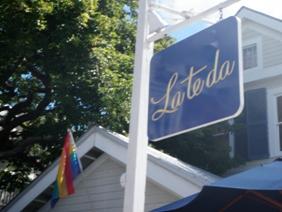 Yes, it is body paint!                                         Don't miss La te da in Key West!  Great Food.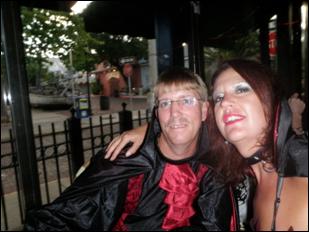 Steve & Sabrina Saturday Night Key West
Sunday and Tuesday – Days at Sea
Diane – We had two days at sea which were filled with activities if you wanted them, or plenty of vegging and laughing by the three pools on the ship if you wanted that. One thing is for certain about a cruise.....#1, you won't ever be hungry, and #2, it's YOUR vacation, make it what you want. If you
want to veg and read you can do it. If you want to be active there are more things to do at all hours of the day and night than you'll ever be able to fit in an 8 day span. They also had a water slide, which we only made it to one afternoon....too many other funny things to do it seemed and those that know John, know how he loves to water slide!!!
Sabrina – Fun days at sea.  It was a bit rough on Sunday but I did not get sick (was taking ginger pills).  Went down the slide which was terrifying with the ship rocking like it was.  Played miniature golf – had to time your shots to the ship movement.  Massage on Sunday too.  Fabulous.
Monday – Cozumel, Mexico
Diane - Cozumel....my least favorite stop, and the ONLY shore excursion we paid for, but in hind sight, in that it followed Half Moon Cay....it would have probably been a disappointment no matter what. We did a trip that went to a private island and included lunch and drinks for what we thought was 5 hours. Turns out it was only a 3 hour excursion as it took an hour each way to get there. Our boat (the one that Jim and Nissa and us were on) had nothing but problems, people were getting seasick, it took over an hour to get
to where we were going.  Then, when we got to the island, they said because it was low tide (???? like aren't they used to that twice a day every day????) we'd have to load off of our boat, onto another boat who'd then take us in. All in all, they figured out a way to get us to the other docked boat and we got off our boat, onto another one and then walked thru that boat to shore. It seemed a huge cluster of people who acted like this was their first excursion.  The meal they provided was barely adequate....but the guacamole was really good....so the way I figure it was I ate $89 worth of guacamole.....not a good deal indeed. Given that was really the only downside of the whole trip.....not so bad, huh???? From what I heard from those who went, the scuba diving was awesome and I'm really sorry we didn't choose to do that. Oh well....live and learn.
<![if !supportLineBreakNewLine]>
<![endif]>
Sabrina -  Isla de Passion Cozumel?  Not so much.  I am surprised we did not end up on the Gilligan's Island TV show (three hour tour).  Downright scary transfer from boats.  Di thought their boat was messed up?  Well, get into ours.  Very unorganized, one of our passengers FELL through the opening between the boats.  Too many excuses.  Food okay.  Lines long.  Beach okay.  Would not do again.  Don't do if you go to Cozumel on a cruise.  Not worth your time.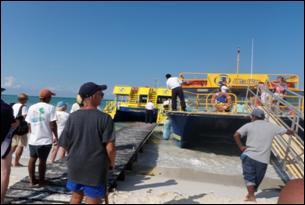 Trying to transfer people between boats. 
Wednesday – Back to Reality
Diane - WOW, WOW, WOW!!!!! What a great time. The one HUGE thing I did notice about this trip was it seemed like time really slowed down. You know how vacations go....you go on vacation for a week, and it seems like a blink of an eye and it's all over. I woke up after the second night on the ship, and said to John, "geeze, we've only been here two nights, we have six more to go!!!" That has NEVER happened to me on any vacation trip. We returned really relaxed and are somewhat vacationed out for a while now....that has again, NEVER happened to me.
<![if !supportLineBreakNewLine]>
<![endif]>
Sabrina - We waited for a while and strolled off the ship, quick taxi to FLL airport where we got a flight 3 ½ hours earlier than planned.  Impressed with how fast people got off the ship.  I agree with what Di said – time slows down on a cruise.  We had a very relaxing vacation! 
Carnival Miracle Ship
Diane –  The Spa area of the ship was awesome.  For this cruise, the male and female locker rooms were both "unisex", which made it really nice...never any waiting.  The showers were great, one large 'rainhead' shower overhead and four wall spouts spraying all over the place.  I'm pretty sure our room attendant thought we stunk, as we always ended up in that shower and used their towels.  I think it was about day four that I realized that we still hadn't used a bath towel.  Speaking of towels, they were everywhere and always available.  No turning in an old one to get a new one.  Unlike other cruises, getting any of the spa services was always available.  Never heard of anyone being told they didn't have any available time slots. 
The ship ended up with just 'open seating' for dinner, you just showed up at whatever time you were assigned (5:45pm or 8:15pm) and were seated.  No assigned tables or even an assigned area.  That was ok and nice in some ways, but if we showed with 10-14 people, we never could sit together...but at least they accommodated and got us in the same general area.  We ate in the dining room probably 5 out of the 8 nights.  We tried breakfast there our first morning, and they made one of the guys go put on a shirt, so we never went back there for breakfast.  Breakfast on the Lido deck was better, hotter and easier than the dining room anyway. 
Sabrina – Gym was great!  Very nicely equipped and most often no waiting time.  Nice hot tub in gym and great locker rooms.  Towels and disinfectant spray prevalent.  Shower in room and in spa great – unbelievable water pressure!! 
Food was wonderful – ate at Nick and Nora's two times (specialty restaurant for an additional $30.00 pp) and meals were leisurely and special.  If you like cheese – not to be missed!  I ordered the cheese for dessert every day except for one where I order the chocolate melting cake (which we make much better at home). 
Most popular areas of ship had to be up early on sea days to get a lounge (in no photo zone aft) which was not a problem for us because I was always up pretty early.  Pools, hot tubs and waterslides very clean and temp was good in most I was in.  Only thing is hot tubs close at midnight which was a bummer.  But we were usually in the disco by then. 
Bed on Carnival – Comfy!  Very relaxing sleep.  Want one for my house!!
What to bring on a cruise
Diane –   John says, "What you need on a cruise, your Tux, Gosh dern it."  He brought his and the ship really never had a "formal night"...but he sure did look handsome when he put it on.  John says, "tell 'em to bring a wrist watch, there are so many things to do all over the ship".  I guess I had one and he didn't.  I can't think of anything else that I wish I'd had and didn't. 
Sabrina – We had never been on a cruise before so I did a lot of research.  I brought a lot of crap with us.  Some of the things that are in my "cruise basket" to bring back are:
<![if !supportLists]>· <![endif]>Bungee Cord (hold balcony door open)
<![if !supportLists]>· <![endif]>Really Big 7-11 Mug (for water during day and whatever during evening)
<![if !supportLists]>· <![endif]>I-Pod I Luv (portable stereo for I-Pod)
<![if !supportLists]>· <![endif]>Wind up alarm clock
<![if !supportLists]>· <![endif]>Shoe Organizer (put over a door for all the little things in your room)
<![if !supportLists]>· <![endif]>Power strip (only one plug in stateroom – with strip you can charge everything at once)
<![if !supportLists]>· <![endif]>Shower Caddy (mesh pockets – very handy)
<![if !supportLists]>· <![endif]>Binoculars (to look at things in ocean)
<![if !supportLists]>· <![endif]>Snorkel
<![if !supportLists]>· <![endif]>Of course a digital camera!!
In Closing -
Diane -  One of the funnest and most relaxing vacations we've ever taken.  Rumor has it that the same cruise line is going to do another Fantasea Fest cruise in either 2011 or 2012.  Count us in, for sure.  If they don't do it till 2012, we'll probably do the one Sabrina mentions below.  Nekkid cruising has ruined us for textile cruising for sure.  All the staff were so comfortable with it, I swear they were like the staff at various other nekkid resorts who live with it on a daily basis.  If I had to do it all over again, I'd probably not book any of the classes that they offered in advance.  We ended up missing a few of them that we had to pay for in advance, just simply because we forgot about it, and were doing much more fun stuff anyway. 
Sabrina - This trip was FUN, FUN, FUN!!  We have already booked another cruise February 14, 2011 that will leave out of Miami and go to The Best French Islands of the Caribbean – St. Barths, Guadeloupe, Martinique, St. Martin and Celebrities private island, CocoCay, Bahamas.  Until 2011!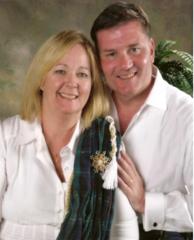 John and Diane on "plaid night"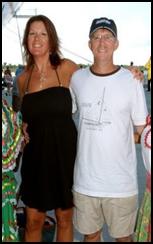 Steve and Sabrina
At Cozumel